I made this, and then I decided it wasn't a secret.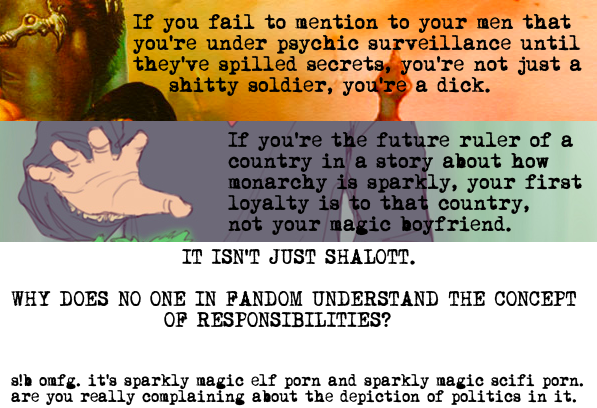 Seriously. This is coming from
me
, okay? "Love is a psychopath" me. If you have the people in your story do fucked up things for each other, I will love you. Just make sure you admit they're fucked up! This goes for pro authors and fic authors both. Make sure it's not like, oh, say, "I sold you and my fiancé into the military but we'll never comment on that again except to be slightly sad about how much I blame myself," or "I murdered my wife but this movie is about how I need to get over feeling bad about how I murdered my wife," or "Kirk and I are soulbonded now Uhura. We can't really be friends anymore. Other friendships do not matter once you are married. \\//_" or "Rose!! I'm burning up a whole star just to see you again! ~SO ROMANTIC~" or okay okay okay I'm stopping now! I'm stopping.
Anyway, basically, fuck it, I feel a lot less bad for reading trashy original slash in which there are politics done in a way that suggest that the politics themselves matter.